At Minster, we are committed to a sustainable future
Our path to achieving net zero
Achieving net zero requires action. Not tomorrow. Not sometime in the future but today. At Minster, we are committed to achieving net zero by 2050 and are actively taking steps to reduce our environmental footprint.
Our roadmap for long-term sustainability sets out our actions for change; ensuring we support the development of urban environments in a sustainable and resource efficient manner. By reducing both direct and embodied carbon emissions, promoting circularity, and enhancing resource efficiency, we are employing crucial strategies to ensure the realisation of our net zero 2050 goal.
Embracing collaboration
We acknowledge that collaboration plays a pivotal role in attaining genuine sustainability across the entire supply chain. Through strong partnerships, we foster innovation, enhance expertise, and cultivate a shared awareness, ensuring that the requirements of both customers and the environment are met.
By forging close alliances with our customers and suppliers, we actively contribute to the sustainable future of urban development. This circular process distinguishes us and serves as a catalyst for positive transformation within the industry. We firmly believe that the journey towards a better, more sustainable future begins with us, starting from the very foundations.
As part of leading heavy building materials distributor, STARK Group, we take great pride in our contribution to sustainable business practices and setting standards worldwide. Recognised by EcoVadis, the premier sustainability rating agency, with a platinum rating, our group stands among the top 1% of over 75,000 companies worldwide. This accolade acknowledges our exceptional sustainability policies, processes, and actions.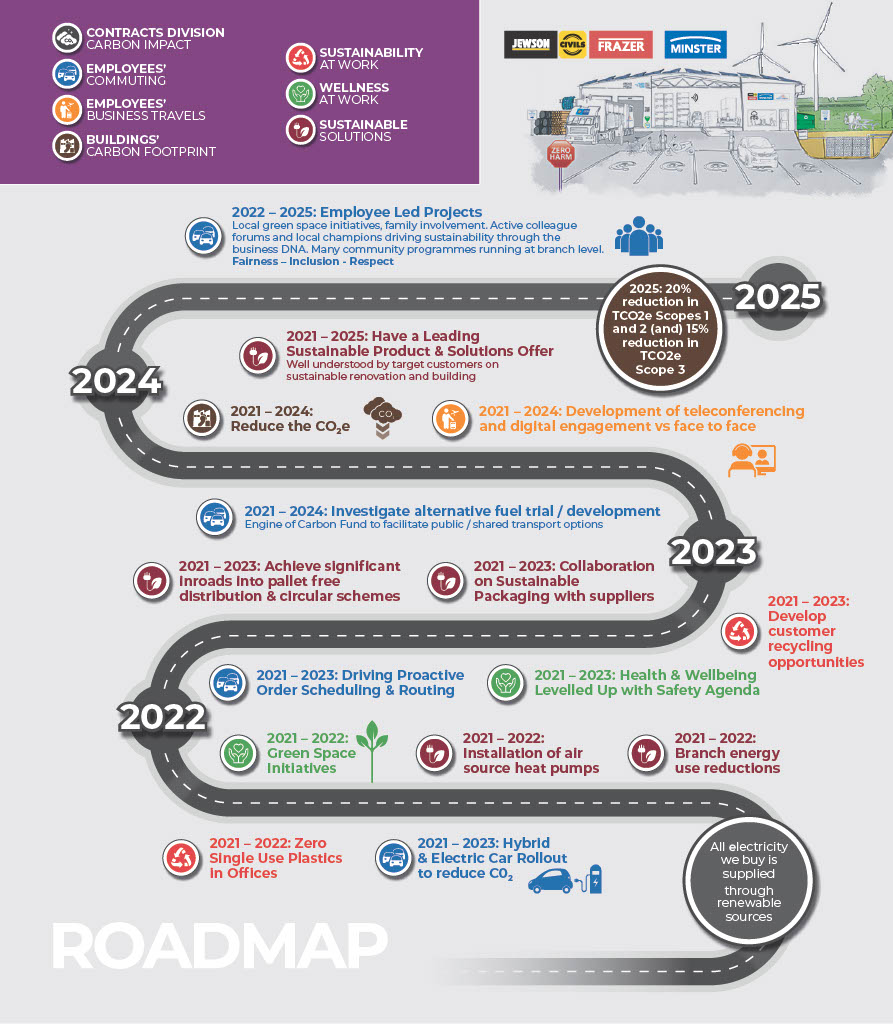 Sustainable solutions
Through close collaboration with our partners and suppliers, we strive to offer customers sustainable solutions that go beyond meeting environmental targets, excelling in performance too. Whether it's supplying plasterboard, insulation foil or ceiling tiles, we source products that contribute to the journey towards net zero. Simultaneously, we implement operational enhancements within our own practices, reducing waste, optimizing vehicle loads, and increasing recycling.
 
Climate action throughout the value chain
Our commitment to achieve net zero is deeply ingrained into our operations, and we are actively enacting transformative measures to ensure its realisation.
Within logistics, our primary focus lies in optimizing loading and routing processes, as well as adopting alternative fuels like renewable bio-diesel (HVO) and employing electric mechanical handling equipment. Within our branches, we are enhancing the efficiency of heating and energy systems, transitioning to renewable energy sources throughout our network. Furthermore, our steadfast dedication to rethinking, reducing, and recycling packaging and waste plays a crucial role in minimising our carbon footprint.
In expanding our climate action further, we are also focussing on our indirect emissions, scope 3. Here we concentrate on providing customer advice and education, as well as increasing collaboration with our suppliers to offer sustainable, energy-efficient and eco-labelled products.
 
Our environment
The construction industry currently accounts for a staggering 38% of global carbon emissions. As a distributor operating within this sector, we understand the profound impact that our positive actions can have. Guided by the principles of the UN Global Compact, our ambitious targets are specifically formulated to align with the climate change objective outlined in the Paris Agreement, aiming to limit the global temperature increase to 1.5°C.
To achieve net zero by 2050, we have committed to the following targets, which have been approved by The Science Based Targets Initiative (SBTi):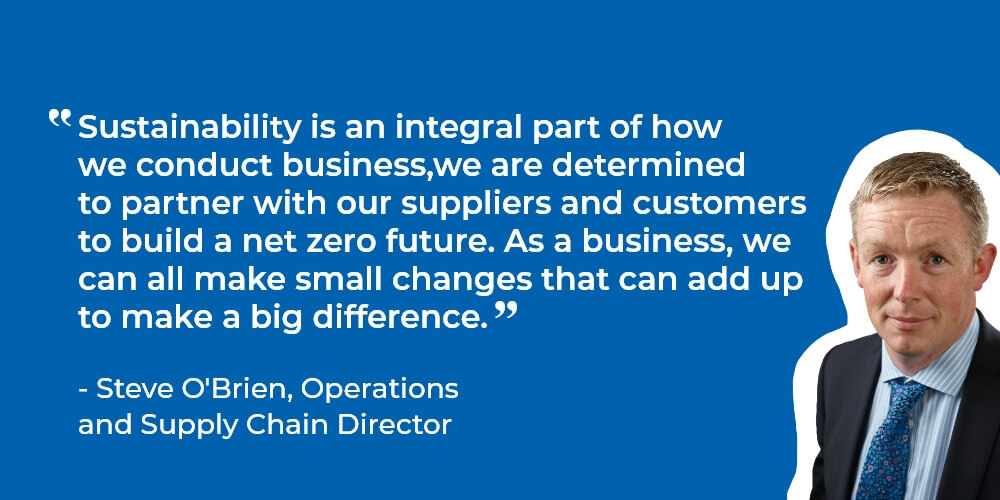 By 2024
16.8% reduction in carbon emissions scope 1 and 2
5% reduction in scope 3 emissions 
3% of employees trained as sustainability specialists
By 2030
42% reduction in carbon emissions scope 1 and 2
12% reduction in scope 3 emissions
Actively source 100% renewable electricity
By 2050
Successfully operate as Net-Zero
Let's build a brighter tomorrow
We encourage everyone to take steps in reducing their emissions and actively strive towards achieving carbon neutrality. Remember, we are all in this together! Our teams are always available to offer expert guidance on sustainable solutions whilst delivering low- emission services. If you aspire to make your construction projects as environmentally friendly as possible, here are a few actions you can take:
1.    Embrace greener designs and materials: We consistently explore innovative ideas to ensure our products utilize the most environmentally friendly materials available. Our branches carry stock with a low-carbon output and in turn, help you lower your carbon footprint by using them.
2.    Optimise energy usage: In order to reduce your emissions, you first need to be aware of how much energy you're using. To minimise emissions, it is essential to be aware of your energy consumption. Start with small efforts to conserve energy, such as insulating walls, floors, ceilings, and roofs, which in turn reduces gas and electricity usage. Consider implementing renewable energy solutions, such as solar panels, to further reduce reliance on traditional energy sources.
3.    Influencing the industry towards carbon neutrality: As a distributor, we play a significant role in connecting customers with suppliers. In addition to ensuring our own products and operations are environmentally friendly, we provide valuable information to support you and your customers in their journey toward net-zero carbon building.