Reece Bailes, Sales Director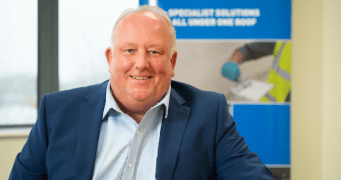 With a nationwide network of 27 distribution branches under his responsibility, Minster Sales Director Reece Bailes is an exceptionally busy man.  But that doesn't stop him from taking a hands-on approach to the business and developing the Minster team. Here he talks more about his career and the Minster difference:
"I've worked in the building materials sector since leaving school at 17. Initially I worked for an insulation distribution company, joining as a warehouseman before being quickly promoted into an external sales role.  Within 5 years I was Director of a leading independent distributor based in Newcastle, servicing Northern England and Scotland."
It was then that Reece's journey with Minster began.  "In 2005 the business was bought by Saint-Gobain UK and Ireland and merged with Minster.  At the time Minster had seven branches but the acquisition saw this increase to nine and gave us the ability to offer full, nationwide coverage."
I saw the acquisition as a major opportunity. I really liked the culture and could see that it would be somewhere I could develop my career and add real value. I was initially appointed Regional Director, looking after the North and Scotland before moving to Sales and Operations Director looking after the entire UK.  Internal restructuring has since seen my job title change but as Sales Director, I am focused on the development of our expert solutions offering and the expansion of the Minster portfolio across England, Scotland and Wales."
With years of experience, Reece has been instrumental in Minster's expansion, overseeing the business grow from nine to 27 distribution branches. He has created and implemented an ambitious yet successful growth strategy, supported by an equally driven regional sales teams, resulting in the strong market position Minster holds today.
"Value-added solutions provided with technical expertise, first-class service and trust are at the core of what we provide.  The markets we serve are broad and varied but our level of service is not. Our business is structured to provide immediate and long-term solutions that address our customers complex requirements and bring value to every market we serve."
Leading by example, Reece is highly respected in the business for his approachable and open way of working, this reinforces the customer-centric culture that runs throughout the entire Minster team.
"We have solid relationships with our supply chain which enables us to deliver a consistent service.  Supply issues have made the last 12 months very challenging, but we have navigated every single one of them well.  We have remained agile and flexible in our operations and crucially, we haven't over promised. Instead, we have been open and transparent and above all else, strived to never let a customer down.  They have respected us for this approach and as a result our relationships are even stronger.
"Our people make this business and we have such a strong and brilliant team in place.  We are all committed to achieving success and to being a critical partner to our customers."
Connect with Reece Bailes